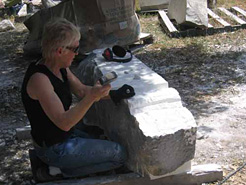 Karen Ryer retired from the practice of law in the San Francisco Bay Area after nearly thirty years to pursue her artistic muse. She has for many years been a student of sculpture, and has experimented along the way with wood, metal and "found objects". However, she had not worked in stone until 1999. Since then, she has not met a stone she did not like.
Ms. Ryer has had many private shows and opened Withywindle Gallery in Guerneville in 2001, where she has had increasing success selling both her stone sculpture and that of others. She teaches basic stone carving, and has students enthusiastically working in the Bay. She and her partner, Patricia Sargent operate Stone Sculptors Supplies, a tool supply on-line website for stone carvers world-wide.
Stone is a fundamental element of the earth. It is billions of years old. It is a basic building block of civilization. It is a visceral instinct to shape it. It is beautiful, willful, cranky, and magic. Those of us who carve it are in love with it, and cannot stop carving. We are listeners to the earth, and we carve because we must shape the sound of the earth, the feel, the color, the solidity, the very life of rock. We hope when you look at and touch what we carve, you feel the same.
Ms. Ryer has carved in many kinds of stone. Currently, she studies marble under the tutelage of Ante Marinovic.
Juried Shows
Sebastopol Center for the Arts, Gallery Two, 2005
Sacramento Center for the Arts International Show, 2004
Sebastopol Center for the Arts, 2002, Sebastopol, California
Sebastopol Center for the Arts: "The Elements", 2004, March
"Little Yellow School Bus Wine Tour" to benefit Russian River area schools at Mill Creek Winery, Healdsburg, CA., Oct. 5, 2003
Coffee Concert, Guerneville, California, October 2003
"Little Yellow School Bus" auction/show October 2004
Sebastopol Center for the Arts Auction, May 2004
Dolphin Gallery, Gualala, CA, one-woman show in white marbles, May 2006
Amista Winery, Healdsburg, CA , November & December 2008
Sebastopol Center for the Arts- January 2009 Stone IV
Toast to the Arts, Geyserville Inn, June - July 2009
Galleries
Founding Member, Sonoma County Gallery Group
Moosse Café Gallery, Mendocino, California, 2004
Amherst, Guerneville, California, 2002, Gallery Opening Show
Withywindle Gallery, Guerneville, California, continuing
Fleurish Gallery, Forestville, CA, November-December, 2003
Sebastopol Center for the Arts: Karen Ryer, Students and Guests 2013
Teaching
- Ongoing beginning sculpture classes at Stone Sculptors Supplies. Currently have six continuing students.
- Adjunct teacher with California Institute of Integral Studies MFA Program 2008-2009
Commissions
- "Cat" in Carrara white marble, 2007
- " EcoRing Hero" awards Russian River Chamber of Commerce carved from Brazilian steatite, 2008
-"Puffin" urn in Arabescota Carrara marble 2010
Training
Ante Marinovic– 2003 to 2014
Studio of Manuel Neri, Carrara, Italy - Summer 2007
Matt Auvinen Studio, Chioggia, Italy 2012
Affiliations
Northwest Stone Carvers Association
Mendocino Center for the Arts
Gualala Center for the Arts
Sebastopol Center for the Arts
About Stone
California Sculptors Symposium Cambria California (annually since 2009)
Stone Sculptors Supplies, Inc
The Stone Foundation